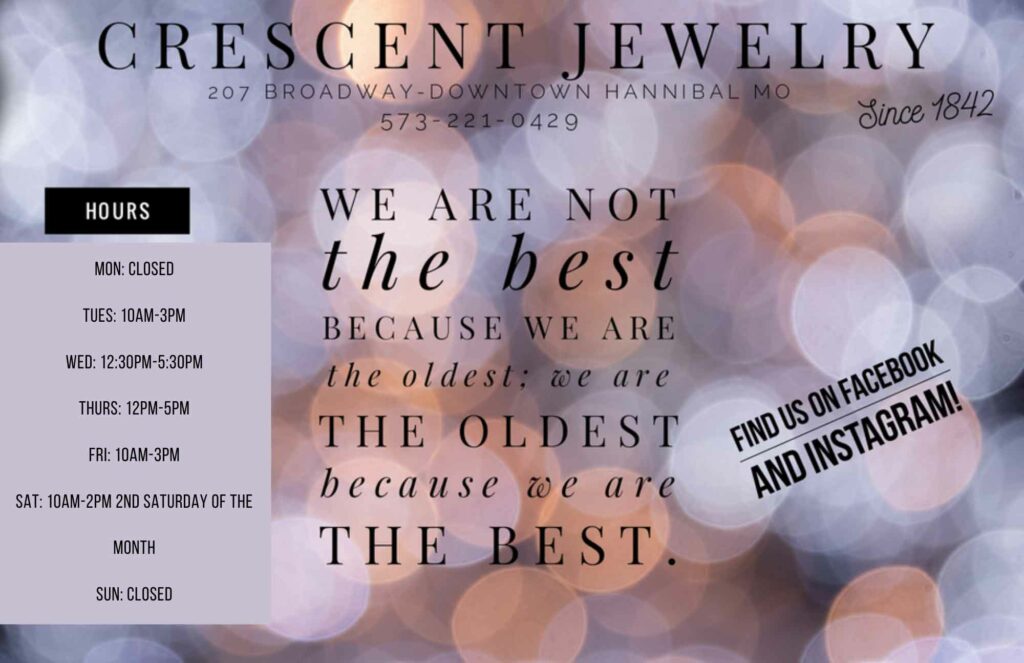 Your Trusted Local Jewelry Shop
Family Owned for More Than 5 Generations
Crescent Jewelry Co., a landmark business in Hannibal, MO, is the locals' favorite place to shop for special gifts. We have been working with regional families for generations, which is why our knowledge, service, and attention to detail is unmatched by other jewelry stores in the area.

Find the perfect piece to celebrate the most important moment in your life. Visit us today! Whether you are looking for a once-in-a-lifetime anniversary present or an exquisite engagement ring, we have you covered.
MEET THE OWNER
Donna Heiser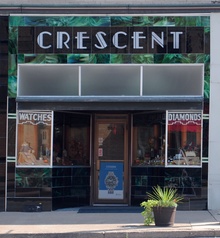 Our History
It all started when R.E. Lackner opened a jewelry, camera, and general mercantile in Hannibal. Together with his daughter's husband, Lewis Heiser, R.E. Lackner started Heiser Jewelry Company.

Alvin, Lewis' son and Bobby's grandfather, married Veda Erickson. The couple had Robert L. Heiser, Bobby's dad. Robert became an optometrist and a partner in the jewelry store, working alongside Veda and her brother Edwin "Pete" Erickson.

"This is a happy business. People come to us for happy occasions: engagements, weddings, anniversaries, and graduations…sometimes even get-out-of-trouble gifts." – Bobby Heiser
The Crescent Jewelry Difference
Since we were established, customer satisfaction has always been the key to our success. Over the decades, we have encountered countless instances wherein we needed to go the extra mile to address our clients' requests. However, there is a story that stands out among all others.

It was close to Christmas when a customer ordered a unique three-stone emerald ring as a special gift for her husband. The ring came in, but it was not as ordered. It needed to be sent back for work, and the stone had to be remounted.

It looked like the order would not be done in time for Christmas. The customer was disappointed but accepting. Bobby got the ring back on Christmas Eve. That night, he remounted the stone and delivered the ring to the customer's home. They were not there, but the door was open. Bobby went in and hid the small box under the Christmas tree. The next day, the happy customer called in tears-she was so delighted.

To learn more about our company and the items we sell, contact us right away. We look forward to hearing from you soon.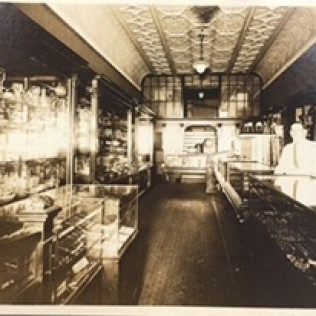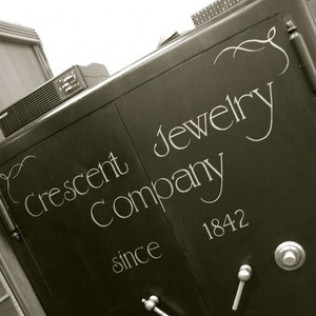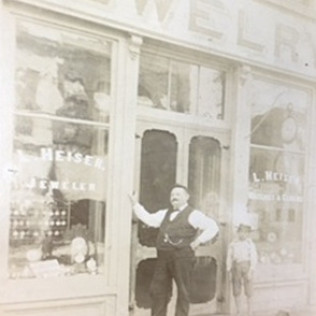 Contact Us
Crescent Jewelry Co.
207 Broadway
Hannibal, MO 63401

Phone:
573-221-0429

E-mail:
jewels@crescenthannibal.com